Once a Fisherman Always a Fisherman
Posted on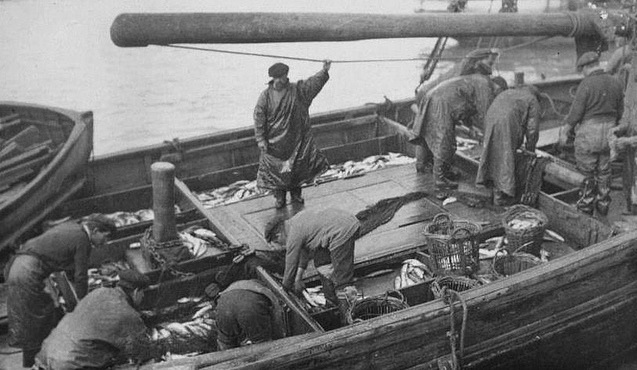 My Nan Ethel would say to me I used to go to sea, Herring fishing, I think she wanted me to ask her "did you" but after seeing her reading fortunes from tea leaves which were swiled round three times in a tea cup I thought better of it.
Technology progressed man on the moon, and the best thing since slice bread computers. My wife and I would often speak of our past family so sure enough we signed for Ansestory here we delved into our distant past.
In my mind came Ethel Fital, reading tea leaves, going Herring fishing with her husband and daughters was this true or just a fairy tale ? we opened the ancestory and the information was sifted through and sure enough a tale I couldnt belive began to unfold, sure enough my mind was at last put to rest my Nan wasnt bonkers after all it was all so very true.
My Grandad from around the late 1850 was borne and bread in Lowestoft Suffolk, where he worked earning a living Herring Fishing. We lost the trail and gather that he sailed his fishing boat on a harrowing coastal sea trip from Lowestoft to Kent Royal Harbour, Ramsgate. We found his lodgings which is still there situated on the East Cliff overlooking Ramsgate harbour to think all the years I lived in Ramsgate and past his old digs was just amazing.
In his time he met Ethel and happily married. They had six daughters this was no small family. He made a decision to up anchor set the sail to head West to find the Herring shoals, together with his wife Ethal and six daughters.
I cannot emagine a fishing boat with seven women on board what they experienced on the rough seas; itmust have been traumatic.
They safely made it to Southern Ireland, here he would join other fishing fleets, Herring fishing for a wage but first he had to find accommodation for his family close to his working Port, Pigeon Harbour Southern Ireland.
I cannot find details but I would imagine that his wife and very young daughters were given the task of gutting,filiting and barreling the Herring.
Once the Herring season had finished he then squared up with the rent before the harrowing trip in rough seas up the English Channel to their home port of Ramsagate. I still have some bits a pieces of hers unfortunately not those magic tea cups and suacers which told a story of fortune and travel.
Colin Marsh.